"Best birthday ever! My sweet angel is 3!! Thank you Royal Magic Events for making it Extra Magical!" Lily Aldridge Victoria Secret, Sports Illustrated  model endorsement on Instagram.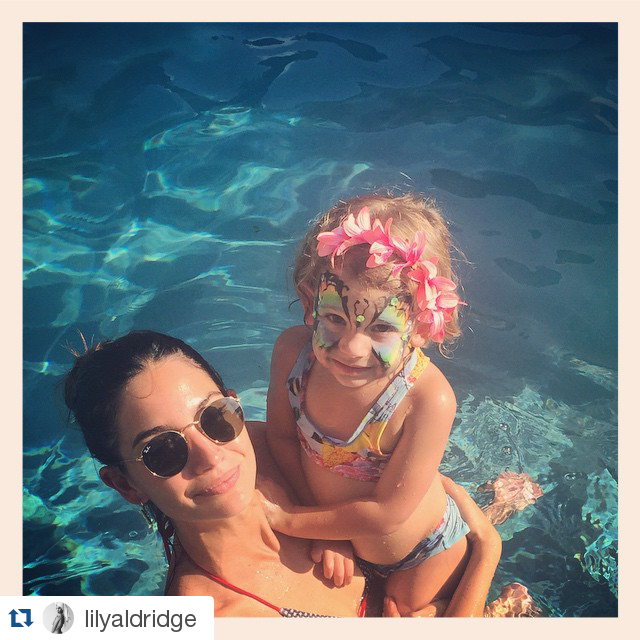 There are tons of artists or entertainers around, but there is NO ONE around like this company! We have used them for several corporate and private parties and they the best. They have the greatest personalities, and interact well with the guests. They are responsible, professional, and entertaining. Hire them if you want the best around. RD-Sevierville, TN
We met Terina at a festival, and my kids loved their face paint so much that we had them come to a birthday party. Let me tell you, she painted so fast but so good! We had about 50 guests in attendance, which was more than I had planned for. But, she was totally calm and fine, even though I was a wreck. She assured me that it was going to be ok, and that she could paint them all and she did! She painted beautiful art too! I was so grateful for her help in making the party flow nicely, and she really was great with the kids too. Carly Pete-Chattanooga, TN
Our children's department always looks forward to seeing the magic shows. They do such a fantastic job-Natasha, Coalfield, TN
The best face painting in Knoxville, TN! We look for the Royal Magic Events sign anytime we are at a public event! They are so great with the kids! Kristy G–Knoxville, TN
Naturally talented couple. The entire family is wonderful to see in action. I was so impressed with their services and their enthusiasm. Carol-Knoxville, TN
I love that they come on location to me! I didn't have to worry about doing anything for them. They arrived professionally uniformed, and set up everything on their own. They didn't even make a mess for me to clean up. BEST EVER party for the kids and I didn't have to lift a finger except to call and reserve them. I highly recommend them. Andrea–Knoxville
" We were blown away by the wonderful magic show. My son really believed in his magic wand! It was fantastic!" Mike C. Louden, TN
Terina is the best face painter I have ever seen. Not only is she talented, but she is so good with the kids! Each princess at our party truly felt special because of the way that Terina was with each and every child. Royal Magic Events will be the party group that I call for every party that we have.
Christine M. Knoxville, TN
Dan the Magic Man was fabulous! I was like, how did he have my card upside down!!!! Totally awesome!  Jerry G Powell, TN.
I have never seen such beautiful art before. It was like watching a master artist paint on my child's face. Within minutes, Terina had painted these beautiful cascades of life like roses and pretty swirls on my daughter. She literally giggled with delight when she saw her birthday face paint. Worth every penny!
Chanda L. Sevierville, TN
My daughter's party was such a hit! We were glad that we booked with Royal Magic Events. They did everything that they promised but more!
Casey Ann  Gatlinburg, TN
Absolutely the best and worth every single penny! If you want the most talented, the most professional, and the greatest event ever then you should hire Royal Magic Events! Kelly, Gatlinburg, TN
Royal Magic Events made our fundraiser exceptional!
Chelsea E., Knoxville TN
So professional. So timely. Perfect for our customers
-Clyde K. Cleveland, TN
We would recommend Royal Magic Events to anyone. We received the best customer service ever! We had booked with another company that cancelled at the last minute!!! I was frantic and the secretary was so calming and friendly… she booked us with a great painter that just made the event!
C.M. Knoxville, TN
Lacey believed that the real Cinderella was in front of her. The costume was just beautiful! She thought Cinderella was so pretty and sweet. She really had the time of her life! She also enjoyed all the fun tricks that the Prince showed her. Thank you for making Lacey's day so special!
Sheena, Michael, & Lacey  Halls, TN
Royal Magic Events came to my daughter's pre-K class and performed for her 5th birthday.  The whole class loved the show and my daughter was made to feel very special on her big day.  Just great people and definitely worth the money!
Viktoriya—Knoxville, TN
We were so pleased with your work at our Trunk-or-Treat event!  The illusions and the face-painting were top-notch!  We so appreciated your professionalism and your obvious commitment to excellence.  Thank-you, Royal Magic Events, for providing a "magical touch" for our event!
Wendy Crowe, Children's Ministry Director,  Smithwood Baptist Church
Thanks so much for the wonderful party. The kids had so much fun with the magic show and the face painting. My daughter loved being the center of the show and had the best 6th birthday ever. I would certainly recommend to anyone that is having a party. I will be sure to use Royal Magic Events again myself for any future parties.
Tia –Kodak, TN
Royal Magic Events made my son have a magical birthday party. They did a fantastic job and everyone had a great time! I would highly recommend them to anyone!
Kim–Karns,TN
Thank you to Terina and her family for the wonderful job they
did with our son's birthday party.  The train conductor costumes were
awesome and so kind of you to go out of your way to look for.  It was
great that your family can provide several types of entertainment for
one party.  Sure keeps the chaos and cost to a more manageable level
for the parents.  I would gladly recommend you to other parents looking
to plan a party for their child.
Christine—Norris, TN
We absolutely loved the face painting today! Ella is still wearing hers! The party was very easy to book as Royal Magic Events was very accessible by web, email, and phone. We thought the staff was extremely professional and courteous to us, our daughter, and her friends as well as the preschool staff. Thank you for such a great party–Ella thoroughly enjoyed her birthday party, the party bag, and gift. We would definitely recommend Royal Magic Events to friends and family!
With warmest thanks,
Mary Beth
"Terina, thanks so much for blessing Alayna and her friends last night at her birthday party.  You and Danny made her birthday full of sunshine.  We really appreciate you!!!!"
Leah—Knoxville, TN
Royal Magic was totally fabulous! This party far exceeded our expectations, and the art work was truly amazing! Everything was absolutely wonderful!
Laura—Knoxville,TN
" Terina is awesome and very talented!  I highly recommend her!  "Dan the Magic Man" is pretty amazing too!

Jennifer—Knoxville, TN
I am so happy with everything! The kids had an unbelievable time and Audrey says her favorite part was the MAGIC. I can't believe she was willing to participate in the finale but I am thankful. We couldn't be more pleased with everything that you provided. I will be more than happy to be a reference for you in the future. Your family is delightful and we welcome back anytime!
Sincerely,
Pat, Rhonda, and Audrey—Knoxville, TN
Terina's art is fan-tab-u-lous!
Glenna–Clinton, TN
Royal Magic is the absolute best! The staff is wonderful with kids and the balloons are really great! Terina is an amazing artist and she makes each child feel so exceptional with her art. It is nice to see a business that is really focused on making the kids feel special and happy. We will book again for future events!
Justine, Greg, and Abby Knoxville, TN
Emma loved her rainbow kitty face! She purred like a kitten ALL day!
Sharon, Oak Ridge TN
The staff of Royal Magic Events was great! The event was WAY better than we thought it would be. I was expecting simple balloon animals and simple little face designs. We got balloon monkeys that the kids wore on their arms! Terina Painted awesome faces that had all types of glitter and jewels. I was BLOWN AWAY!!! My two kids begged me to not wash their faces that night! It was amazing!
Justin, Knoxville TN
My son loved his face paint so much that he wants to have his face painted every day! It was so great to see him excited over something that was so affordable for me to do. Thanks Terina and Royal Magic Events!!!
Kelly, Knoxville TN
HEY I HAVE BEEN MEANING TO TELL YOU ALL THAT I WAS SO VERY PLEASED WITH THE MAGIC SHOW. YOU TWO ARE REALLY GREAT ENTERTAINERS. ALL THE KIDS ENJOYED IT AND I KNOW THIS WAS TRULY THE BEST PARTY OUT OF THE TEN WE HAVE HAD FOR TRINITY AND ANDRE. I APPRECIATE YOU GUYS SO MUCH. THE KIDS TALK ABOUT THE SHOW QUITE A BIT. AGAIN THANKS SO MUCH!!!!! Sylvia, Knoxville TN
We had a wonderful time. I got so many compliments on the party. You all were wonderful!!!! The party exceed my expectations. Great for kids and parents. My little girl said it was her best party ever!! Would highly recommend. Jessica R. Sevierville, TN
Thank you for truly touching our hearts. Your family is amazing, kind, and talented. I felt that it was a gift to meet you all. The kids talked about your visit for days. Sarah R. Knoxville, TN
There are face painters and then there are true artists! Terina is the most talented artist that I have ever seen. My little girl was so happy with her art work. She wants to see Miss Terina everyday.  Cathy J. Knoxville, TN
So great to work with and so professional. I have never had such wonderful customer service. Kevin M. Knoxville, TN
Royal Magic Events was amazing to deal with, they turned my 40th birthday into an extraordinary event. As a bridal show producer in many cities myself I see a lot of decorations and I deal with a number of companies and the service I received from them was priceless. I am very selective and I always want unique and over the top and for my birthday they created the most amazing high heeled balloon show and the most fab Channel handbag all created out of balloons.
My experience was one of the best I have ever had. From my phone call to my consult, Terina knew exactly what would blow me away. After one meeting she knew what I would want and like, and as it turned out I did not only like it; but I LOVED IT. My balloons were taken to the venue and when I arrived they were there set up. There are a few companies in town that do decor services, but there is a difference in doing business with a company and doing business with the best!
Thank you all for an amazing decor experience. I will be contacting you again next year for my daughter's birthday party. Its number 13 and I know you will make it an event to remember!
Shaunda Beatty Knoxville, TN
My daughter's day care absolutely loved your magic show. The puppets were so great! She really believed that you were a princess too! I will be using you again for future events AND I have told all of my friends about how wonderful that your company is to work with. You have amazing customer service! Thank you Terina!
Kelly J, Knoxville, TN
Our daughter loves to get her face painted! The best face paint ever was at the Knoxville Zoo. Terina was there and painted a tiger face for each of my children. It was amazing. She was so fast and the paintings were wonderful. My daughter said it was the best day ever! She loved her face!!!
Kristy G, Knoxville TN
Amazing people. They made our Christmas party perfect! It was so nice to see the children engage in the party. We will definetly use them again! Cameron – Gatlinburg, TN
"Best birthday party ever!" Kathy Knoxville, TN
"Tinkerbelle was beautiful! All of the children just loved the magical story time! It was the best party we ever had! Thank you Royal Magic Events for making it an amazing party!" Sherri and Tim~Kentucky
"Best birthday ever! My sweet angel is 3!! Thank you Royal Magic Events for making it Extra Magical!" Lily Aldridge Victoria Secret, SI model endorsement on Instagram